north | [photoa] Pyongyang Mass Rally Marks Day of Struggle against US Imperi…
페이지 정보
작성자

관리자

작성일

15-06-26 17:51 댓글0건
본문
Pyongyang Mass Rally Marks Day
of Struggle against US Imperialism
A Pyongyang mass rally took place at Kim Il Sung Stadium on June 25, the day of struggle against US imperialism.
Present there were Pak Pong Ju, Yang Hyong Sop, Kim Yang Gon and other senior officials of the Party and the state, the chairperson of a friendly party, officials of the Party and power organs, working people's organizations, ministries and national agencies, officials of institutions, industrial establishments and cooperative farms, working people, youth and students in the city and the chief of the Pyongyang Mission of the Anti-Imperialist National Democratic Front.
Among those present there on invitation were diplomatic envoys and military attaches of foreign embassies in the DPRK and foreign guests.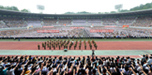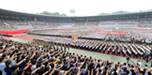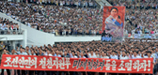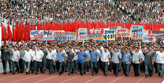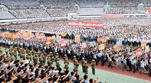 Cha Hui Rim, chairman of the Pyongyang City People's Committee, made a speech at the rally.
He said: The US imperialists ignited a war of aggression against the DPRK in order to dominate the whole world with the Korean peninsula as stepping-stone. They committed monstrous crimes unprecedented in human history of wars with huge aggression troops armed with the latest war hardware.
However, they could never bring to submission the army and people of the DPRK who turned out as one in the war to defend their country.
They have gone frantic with the moves for a new war while occupying south Korea and persistently pursued a hostile policy towards the DPRK, far from drawing a due lesson from the ignominious defeat they suffered in the Korean war.
The speaker called upon all people to achieve the final victory in the confrontation with the US which was launched on a new high stage, reunify the country and accomplish the Songun revolutionary cause of Juche.
The floor was taken by representatives of workers, agricultural workers and youth.
They declared that if the US imperialists ignite another war of aggression, the service personnel and people will never miss the opportunity but wipe out the aggressors to the last one.
Then followed an anti-US demonstration.
Similar rallies took place in every province, city and county on the same day.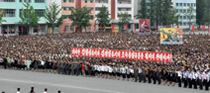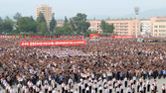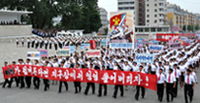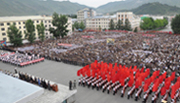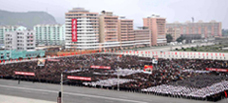 [이 게시물은 관리자님에 의해 2015-06-26 17:52:19 새 소식에서 복사 됨]
추천 0